Life is Good!
In the summer of 2001, we purchased approximately four acres of land just outside the Buffalo Gap city limits in the Southern Hills addition. This began a 15-month construction project for a home that would suit our family's needs. Both sides of our family have special needs, and we are blessed (as a couple) to have families that love each other and support each other in both good times, and not-so-good times.

Cary and Lota agreed to fund the construction of this new home, and Tom and Ruth Ann (Lota's sister) agreed to be the primary caretakers of Lota and Ruth Ann's mother, Lovelle, who had serious health issues that required constant attention. Lota and Ruth Ann felt a strong and collective desire to give Lovelle what she wanted most -- to live out her days at home surrounded by family.

Since the "old" Buffalo Gap homestead was a 100-year-old farmhouse that had many issues, including not being wheelchair accessible, we had to make a change. Hence the construction project began, with Tom and Lota spending lots of time IM'ing with ideas and suggestions. The house has features that we all wanted -- no thresholds and wide doors throughout to accomodate easy wheelchair access (Lovelle's wish), a wrap-around porch (Cary's wish), lots of storage space (Lota's wish) and a beautiful kitchen (Ruth Ann's wish). Here is a photo of the house that we have loved since we moved into it in September 2002. Tom and Ruth Ann have the north master suite, Lovelle had the south master suite and Cary and Lota had the guest suite.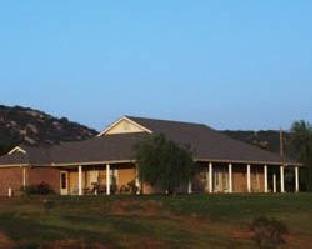 View of the house from the West at sunset.
So, Cary and Lota had the opportunity to visit the folks in Buffalo Gap many times, but Gaithersburg, Maryland still remained our principal residence -- until July 2007 when Lota officially retired from MedImmune. Lovelle's health had taken a particularly harsh downturn, so Lota and Cary spent the next couple of months in Texas for what ended up being Lovelle's last days. She went to be with the angels on Saturday, September 8, and our lives will forever be blessed for having her as a mother, aunt, cousin, sister and friend.

So, what happens now? Well, even before the events of September 8, Cary and Lota had embarked on three major additions to the house and its surroundings. It no longer seemed appropriate to call it "The House" -- hence, the nickname "The Compound" just seemed logical -- despite the poor reputation that word currently has when thinking about groups of people living together in Texas......

The first addition to "The Compound" was a backyard oasis, including a pool constructed by our good friend Randy Glenn and his teams at Pool Tyme, Extreme Exteriors, Pool Tek and Randy Glenn Landscaping. This is a gift to Ruth Ann to both celebrate her landmark birthday in January 2008 and thank her for incredible care she gave our mother during the last 10 years. As beautiful as our oasis is, it doesn't compare to the love both Ruth Ann and Tom gave to Lovelle during the sunset of her life!!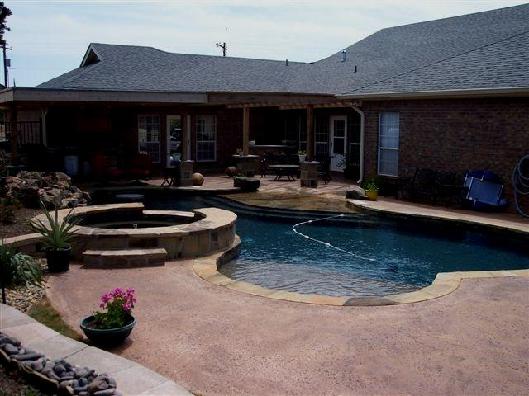 The Backyard Oasis at the Compound
While we already had one barn and storage building (called "Tom's barn), we needed more covered space. The second and third additions to the compound were garages -- one for cars and mowing equipment and the other for the Waggin' Wagon. The "car barn" also has a large storage space at the back, and the "RV barn" has an office, full bath, storage room and storage loft. These buildings were constructed by our good friends Ed McGlothlin and Ken Reed, who are pictured below with the buildings they built -- Tom's barn in 2002, Car barn in 2008, RV barn in 2008.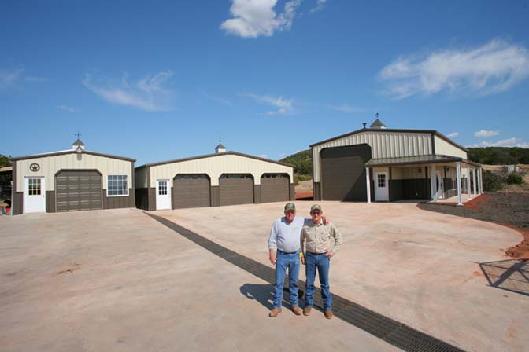 Ken, Ed and the steel barns they built at The Compound.